David Hockney moves into film with Royal Academy exhibition
Hockney's multi-camera films of the east Yorkshire countryside 'could save cinema', according to the artist
Mark Brown
guardian.co.uk Wednesday 7 September 2011 18.35 BST
Article history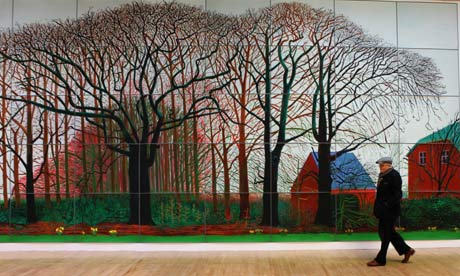 David Hockney in 2009 at his exhibition at Tate Britain, with his painting Bigger Trees Near Warter. Photograph: Graham Turner for the Guardian
Seven years' worth of David Hockney's work are to be exhibited in a major show at the Royal Academy next year, including, for the first time, film.
The artist has some valuable pointers for television and Hollywood. "It has occurred to me that it could save cinema," Hockney said, outlining plans to exhibit his landscape films, in which he used nine cameras to create large moving images across multiple screens.
"I'm going to show these to friends in Hollywood in a few weeks.."
The films show the same landscape in each of the four seasons and were taken when he lived in Bridlington, capturing the changing beauty of the east Yorkshire countryside.
They will be among 150 works in Hockney's show, which will include paintings, drawings, sketchbooks and drawings made on his cherished iPad.
The show stems from an approach the RA made to Hockney in 2004, putting much of its grand gallery space at the artist's disposal.
"It did give me a terrific boost," he said. "I thought, they're giving me wonderful great big walls that were made for big paintings right in the middle of London. I think we've risen to it."
Hockney has managed to make east Yorkshire his landscape, much as Constable did with Suffolk.
"Nobody directed what David was going to do for this exhibition," said co-curator Marco Livingstone. "He had the galleries at his disposal and he made the work that he wanted to make."
Livingstone said the technical skill, the brushwork and the confidence in the works were all of the highest order. "I think the paintings he has made since 2005 are the most impressive body of work he's made in his life."
Did Hockney agree? "Any artist will tell you that the work he did yesterday was the best," he said.
Hockney, a regular Guardian letter writer as well as reader, used the launch to get a few longstanding gripes off his chest. It's not two thousand and twelve, for example, it's twenty twelve. He also held forth on smoking, of course. He has cigarette packet warning signs all over his house saying "death awaits you even if you do not smoke". And while he was there, he bemoaned the wrongheadedness of Hollywood in thinking 3D was the way forward: "A big error, a mistake," that is only good for pornography, he said.
Filming in east Yorkshire was straightforward because nobody interfered or interrupted, he said. "In LA it would have been permits, all kinds of things."
Using so many cameras exposed the comparative limitations of TV, he said. "You notice how pokey the television picture is, actually. It's always edges, edges. We're moving the edges now. You move the edge by putting a great deal more in the middle of the picture."
After devoting so long to landscapes, the 74-year-old Hockney thinks he will now return to portraits. "That's normally what happens," he said.
The show is not a retrospective, but will include works from the 1950s to the 1990s, to allow his new work to be seen in context.
The stars of the show may well be multi-canvassed depictions of east Yorkshire, which Hockney painted after driving around the countryside with a chair in the boot of his car, then sitting and smoking and looking.
"Most people glance or scan but don't look," he said. "I love looking, I get intense pleasure from my eyes. There's a lot of blindness. I'm not sure television has made people look very hard. I always thought television couldn't show you the beauty of the landscape because it can't show you space that well. The enjoyment of landscape is a spatial thrill."
The show will be part of the 2012 Cultural Olympiad programme. Ruth Mackenzie, the programme's director, said one of her first acts after being appointed had been to approach the RA and beg them to allow the Hockney show to be part of it.
As the Hockney show was scheduled for January to April and the London 2012 Festival is in June, Mackenzie had to think creatively. "We decided to invent a category of 'countdown' events and countdown events are in honour, really, of David Hockney."
David Hockney: A Bigger Picture will be at the Royal Academy between 21 January and 9 April.